We believe every client has a story and your space is a great vehicle for telling it. We're excited about the transformation toward human-centered design—and thrilled to be a part of setting the agenda for so many exciting projects.
Sanford Health Stevens Center
Sanford Construction Services and Sanford Purchasing
The Stevens Center is home to Sanford Health's IT Department. The goal for this space was to open it up for movement and collaboration amongst departments while incorporating a "techy" aesthetic. Low panels with frosted glass tops were used in conjunction with floor to ceiling modular glass walls to bring natural light throughout the space. A collaboration Hub was incorporated using various styles of modern lounge furniture, tables and a shuffle board. This space encourages employees to get away from their desk and interact with amongst themselves.
Project Gallery
---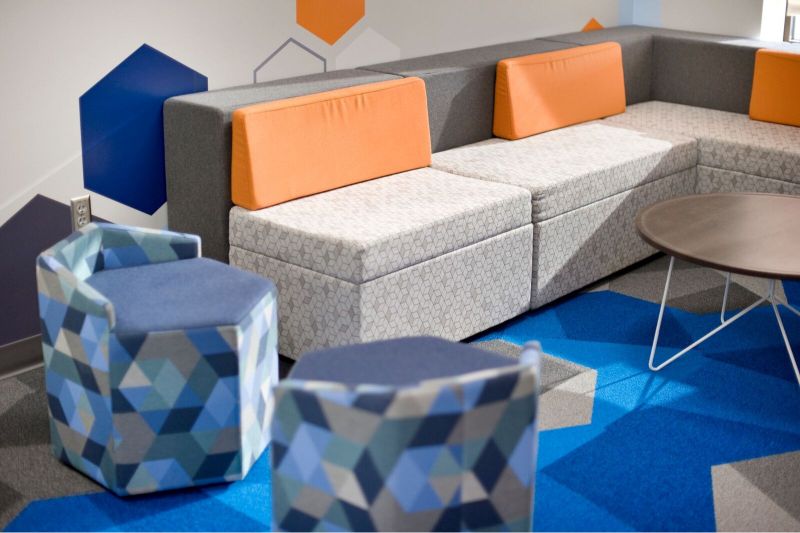 McKinney Olson Insurance
Financial, Commercial Office
Sioux Falls, South Dakota
RSA Architects, Jans Construction
McKinney Olson Insurance covers all aspects of the insurance world. This space is designed to have an open collaborative and modern feel, but also adds privacy to the workspace with a moderate height panel system for heads down work. Included in the space is a feature frameless glass wall for the conference room, with the glass frosted with a modern design that allows for privacy during meetings. This space was designed to break away from the traditional insurance office mold but still hold a professional aesthetic throughout.
Project Gallery
---
Dakota State University Beacom Institute for Technology
TSP Architects, Journey Construction, DSU Facilities
Haworth, OFS, Kimball, KI
Dakota State University, DSU is a classroom room facility for technology-based curriculums, such as cyber security, computer networking, gaming development and web and software development. This building was the first new classroom project at DSU in the last 25 years. The space is designed and furnished to meet the today's collaborative learning with social spaces for campus functions, technology-based labs and community events. Its unique aesthetics both inside and outside help create an iconic space that matches the University's technology brand.
Project Gallery
---
Blue Rock Bar & Grill
Sanford Construction Services and Sanford Purchasing | JLG Architects - Sioux Falls, SD
 | Oland Arts Consulting - Sioux Falls, SD
Oak Street
, Florida Seating, Tropitone Outdoor Furniture
, Designform Furnishings
, Fairfield Barstools
The Blue Rock Bar and Grill is a restaurant where community and atmosphere are key. Being central to a large multi-sport complex, Blue Rock utilizes indoor and outdoor spaces to cater to multiple needs and groups. The outdoor area offers a tailgating vibe with large garage doors, outdoor games, fire pits and lounge seating. The interior includes a darker, cabin-like Lodge space as well as featuring nostalgic sports memorabilia and murals throughout to pay tribute to athletes of the past. The design of this space incorporates unique aesthetics to cater to the concept of community within the restaurant.
Project Gallery
---
Sanford Health Ava's House
Sanford Construction Services and Sanford Purchasing Architecture Incorporated
IOA, Trinity, Splitrock Custom Furniture
Ava's House is a home-like children's hospice located in Sioux Falls, South Dakota. Being one in four of its kind, it was very important to create a specialized experience for children and families that will be utilizing their pediatric hospice services. Some of the features include private patient suites with adjacent family rooms, a children's play area, kitchen, dining area, family room and a reflection room. Each space was carefully designed to be comfortable and accommodating with both families and children in mind.
Project Gallery
---